WEIGHT AND EATING DISORDERS
Description: obesity, Cellulite, water retention, abdominal bloating

Natural active ingredients for disorder prevention and control:
Chlorogenic acid from GREEN COFFEE - Sinensetine from ORTOSIPHON - Vitexine from PASSIONFLOWER - Hydroxyhydric acid from GARCINIA - Bromeline from PINEAPPLE - Galegine from GALEGA - Papayna from PAPAYA - Asiaticoside from ASIAN CENTELLA - Hyperoside and potassium BIRCH - Escine from HORSE CHESTNUT for esternal use
All the above mentioned active ingredients have been included in the formulation of the food supplements listed at the end of this page
Lifestyle: Walk regularly at high speed for at least half an hour a day and always follow the advice of your doctor
For advices or request of information please contact us on the live chat or call us at 0552396055 or write to info@spezieriepalazzovecchio.it
IMPORTANT NOTICE: This website does not provide any medical advice. Information on this Website is provided for informational purposes only and is not intended as a substitute for the advice provided by your doctor or other healthcare professional. You should not use the information on this Website for diagnosing or treating a health problem or disease, or prescribing any medication or other treatment. You should always speak with your doctor or other healthcare professional before taking any medication or nutritional, herbal or homeopathic supplement, or adopting any treatment for a health problem.
INTEGRATORI
Food supplement based on vegetable extracts of Garcinia, Pineapple, Galega,…
Regular Price: €26.00
Special Price €22.00
INTEGRATORI
Food supplement based on Green Coffee, Helichrysum, Orthosiphon and…
Regular Price: €32.00
Special Price €26.00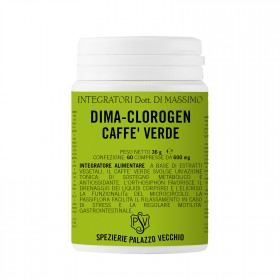 INTEGRATORI
Food supplement with plant extracts of Birch, Ruscus, Witch Hazel, Centella and…
Regular Price: €26.00
Special Price €22.00