ANXIETY AND STRESS DISORDERS
Description: stress and depression, insomnia anxiety, neurovegetative dystonia, nervousness, depression, anxiety, tachycardia, extrasystoles.
Natural active ingredients for disorder prevention and control:
Vitexin and flavonoids from PASSIONFLOWER - HAWTHORN E LINDEN - Rutoside form HOP - Concentrated Magnesium - 5-idrossitriptofano form GRIFFONIA - Concentrated BASIL - Hypericin form HYPERIC - Melatonin 1 mg - Protopine from ESCHOLTZIA
All the above mentioned active ingredients have been included in the formulation of the food supplements listed at the end of this page


| | |
| --- | --- |
| Dietary reccomendation: none in particular, it is recommended to take regularly foods rich in minerals and vitamins, then cooked and raw fruit and vegetables. Hepatobiliary and digestive disorders(scarica il pdf) | |
Lifestyle: regular physical activity is recommended, even outdoors.
For advices or request of information please contact us on the live chat or call us at 0552396055 or write to info@spezieriepalazzovecchio.it
IMPORTANT NOTICE: This website does not provide any medical advice. Information on this Website is provided for informational purposes only and is not intended as a substitute for the advice provided by your doctor or other healthcare professional. You should not use the information on this Website for diagnosing or treating a health problem or disease, or prescribing any medication or other treatment. You should always speak with your doctor or other healthcare professional before taking any medication or nutritional, herbal or homeopathic supplement, or adopting any treatment for a health problem.
INTEGRATORI
Food supplement based on Hypericum, Melatonin, Griffonia and Basil essential…
Regular Price: €26.00
Special Price €22.00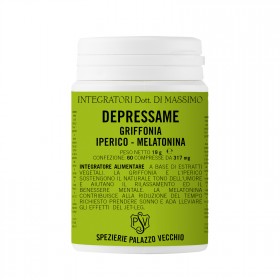 INTEGRATORI
Food supplement based on plant extracts of: Escholtzia, Passionflower,…
Regular Price: €26.00
Special Price €22.00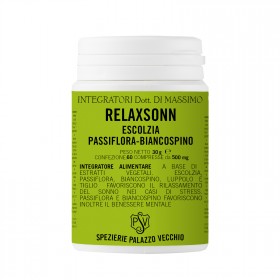 INTEGRATORI
VITAMINS, MINERALS, PROTEINS, COENZIMA Q10. Very effective food supplement to…
Regular Price: €26.00
Special Price €22.00